It's a little out of the way, and its appearance is not ostentatious, but Double DD Meats is one of my favorite butcher shops in western Washington, with excellent beef, pork, chicken and lamb, but just as importantly, their own house-made sausages, ground beef, and smoked meats. Oh… and did I mention that they make their own bacon? And bacon-burger!
I discovered the Double DD by mistake; I had sold an item on Craigslist to a man from Bellevue, and he suggested that we meet at a butcher's shop in Mountlake Terrace to make the exchange. I was intrigued. He claimed that he made the trip up from Bellevue to this shop at least once a month, and that it was always worth it. He said that my first visit would be "awe inspiring!"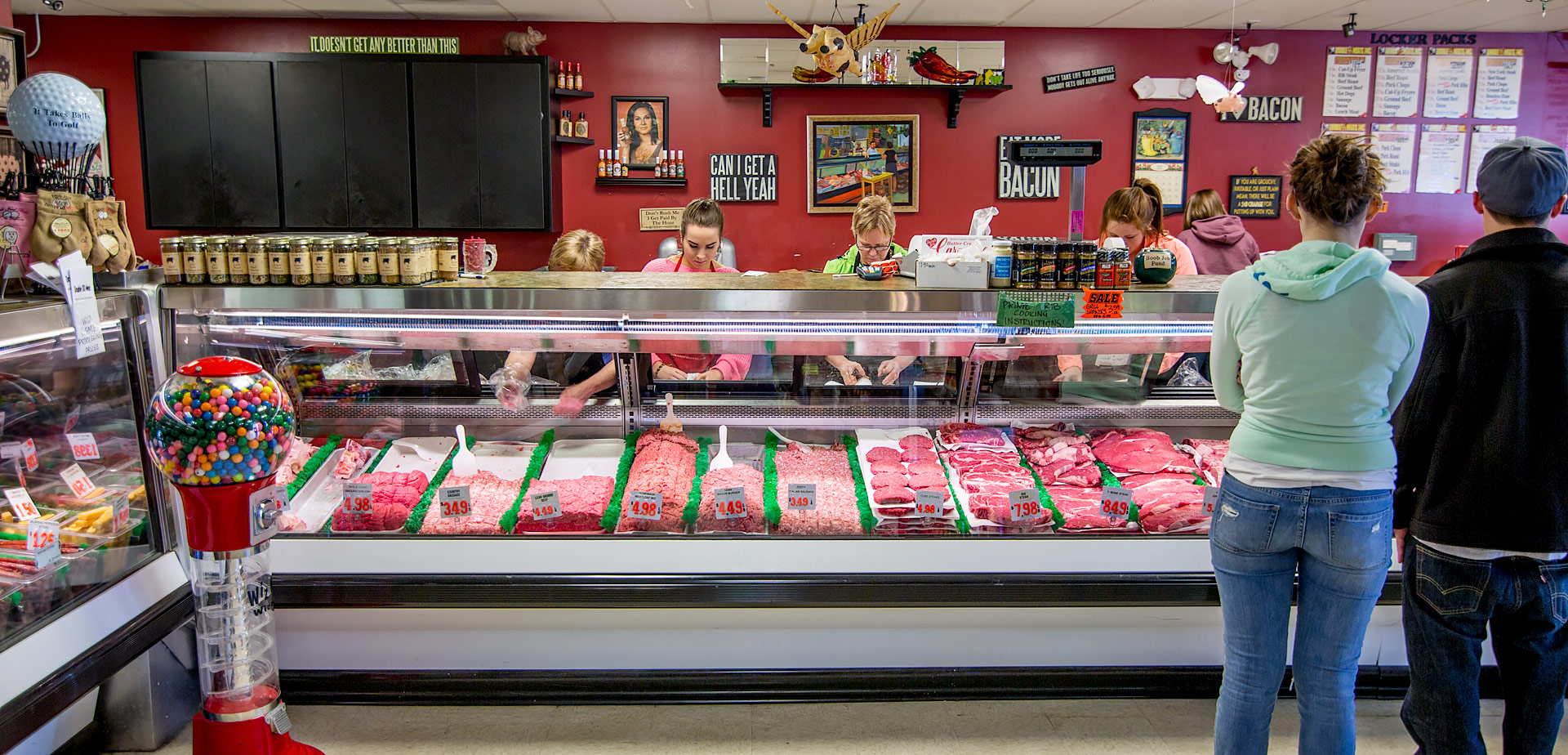 I'm not sure that it was that, exactly, but it was wonderful. The decor is a style I like to think of as red-neck whimsy. There are flying pigs dangling from the ceiling, a sign proclaiming that "Bacon Makes Everything Better", the obligatory placard warning of a $10 fee for dealing with grouchy customers, and a tip jar marked "Boob Job Fund".  High on the walls you'll find the kinds of T-shirts that are popular with weird uncles that spend a lot of time in basements (eg, "The Party Doesn't Start Until Somebody's Naked!").
More importantly, though, their steaks are beautiful, and the prices are lower than those at my local grocery stores. I picked up a couple of ribeyes during my last visit and they were some of the best I've ever had anywhere. You'll find a good selection of common cuts (T-bone, strip steaks, etc) and also some less common offerings, like ox-tail. Their snack-sized pepperoni sticks are excellent, if you like that sort of thing, and they also have a full selection of lunch-meats and cured meats.
And let's not forget the sausages… they make around 60 different varieties, and that doesn't even include the cured sausages! These range from the expected standards like andouille, chorizo, bratwurst, Polska, and Italian sausages to Greek, Portuguese, Norwegian, and Old Kentucky. They have artisan style sausages such as "Artichoke Parmesan" and "Spinach Mushroom Garlic". There are a few German style sausages in addition to the bratwurst, including knackwurst, bockwurst, and dried sausages like Landjaeger. I also discovered a collection of chicken sausages, including chicken andouille, rosemary, heavy garlic, tomato-basil, and Italian. I'd visit this shop for the sausages alone.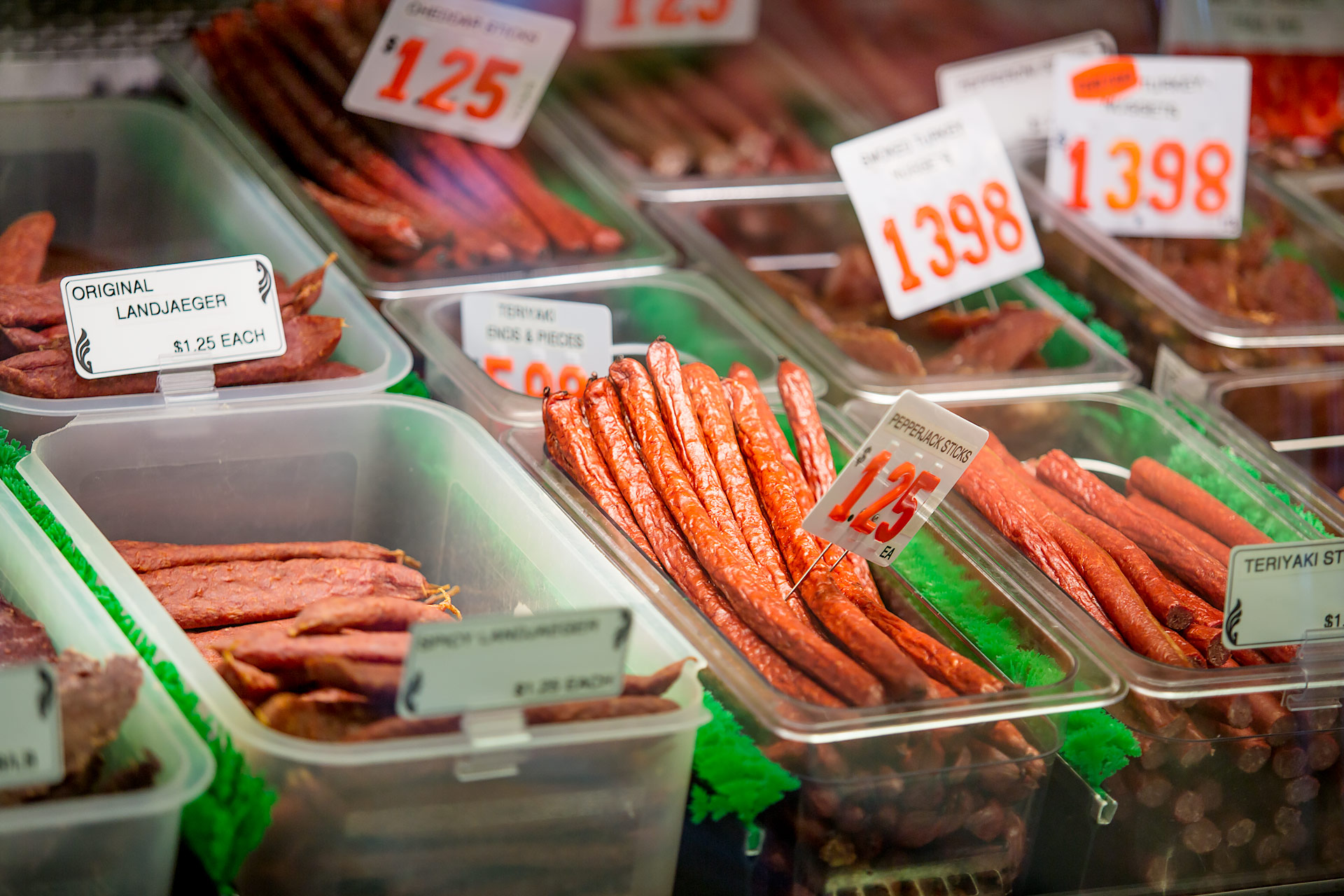 The thing that catches your eye when you walk in the door, though, is the first aisle of hot sauces… thousands of them! I didn't take count, but they claim to have over  2,000 different ones, and I don't doubt it. Many of them are obviously just novelty items ("This Sauce Tastes Like Sh*t", for example), but there are also hundreds of interesting regional and international hot sauces. The following aisles keep it up, with thousands of varieties of barbeque sauces and spice rubs, hot-wing sauces, and the like. There are also Double DD branded items like bleu cheese stuffed olives and spicy pickled garlic cloves, among many others.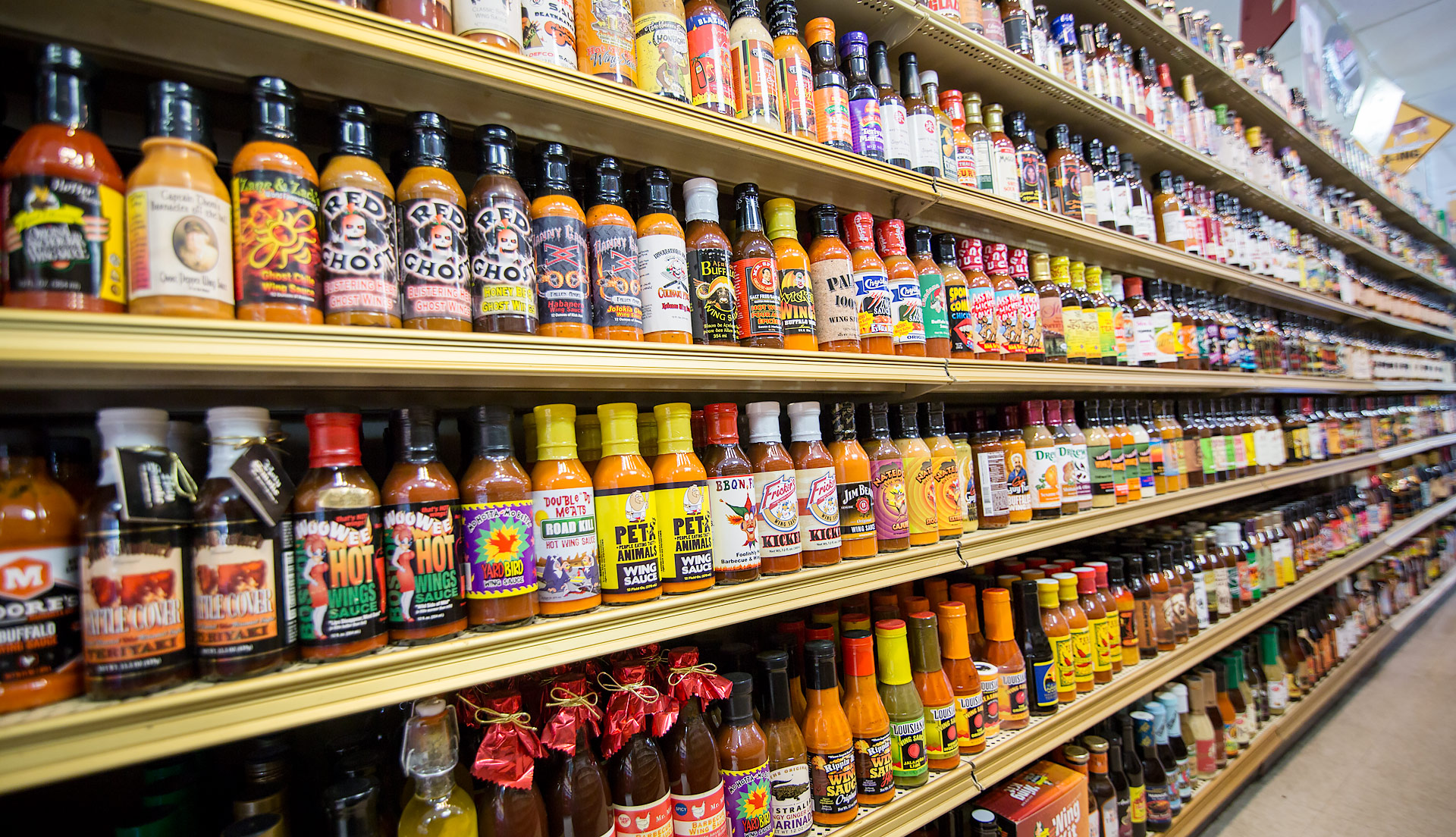 They also have a great assortment of craft and independent sodas and root beers along the back wall, from old-time favorites like Dad's Root Beer and Bubble-Up to imported Australian ginger beer. Finally, in the back corner of the store, there's a big cheese case, which I haven't even had a chance to explore yet.
If I have one complaint about the place, it's that some of the employees got strangely paranoid when I pulled out my cameras. OK… that probably won't be an issue for you. In any case, the owner has been unfailingly friendly and helpful throughout my visits, and that's all that really matters.
Double DD Meats is located in Mountlake Terrace, WA and on the web at http://www.doubleDDmeats.com. You can get Google map directions by following this link, or you can use the address below:
5602 232nd St SW #104, Mountlake Terrace, WA 98043