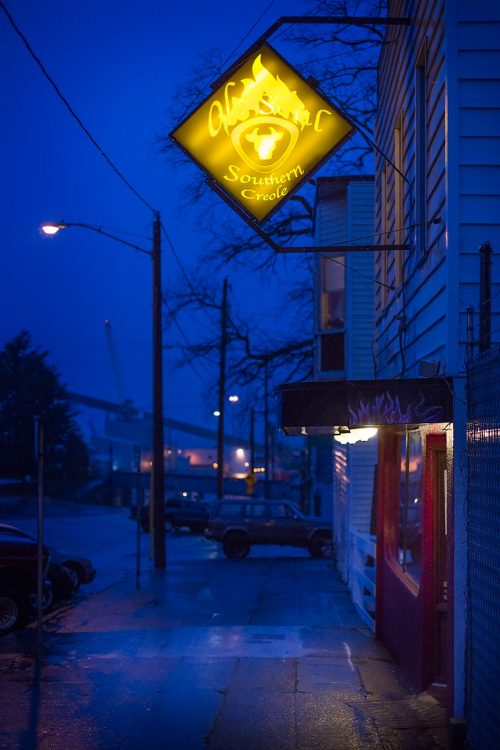 At the quiet end of Hewitt Avenue, near Everett's industrial waterfront, is the entrance to Ole Soul Southern Creole. On a dark, rainy evening, the eatery seems to be nestled in between boarding houses in a fading bayou town. Stepping inside doesn't do anything to alter that picture. Bluegrass and dixieland trickle through the speakers. A couple of obvious regulars sit at a table and chat with the chef, and the hostess greets us with a small-town familiarity that makes me wonder whether she remembers me from my first visit, six months previously; she tells us how busy they were on Valentines day and how many steaks they sold.
The decor is nice… casual but bordering on formal, with black and red heavy tablecloths and modern dishes in various shapes and colors. On warm summer days, you can choose to sit at one of the tables on the back garden patio. From the main dining room a large window provides a view into the kitchen where you can watch Chef Rocky prepare your meal.
Everything on the menu looks good; it contains a mixture of creole and good ol' Southern soul food, with just a hint of the Pacific Northwest making an appearance. The menu claims that ingredients are sourced locally whenever possible, and with steelhead trout available, they must be. Rumor has it that the Chef also (seasonally) gardens his own vegetables.
We started with an appetizer of Andouille & Shrimp (served over cheese-grits) and quickly agreed that they were excellent… and if you get them at Happy Hour for $5, they're a steal. The grits are always creamy, the sausage is nice and spicy, and the shrimp are not skimpy.
One of the things that I love about Ole Soul is that when they bring water to your table, they also bring a little plate of fruit and berries that you can add to it for flavoring. Every restaurant should do that.
I've tried several different entrees at Ole Soul, and they've all been good, though some have been better than others. The fried chicken is first-rate, especially when ordered with creole spice (you can also order it without). When I tried the creole fried steelhead, the fish was perfectly cooked but it was not particularly spicy. The ribs are quite good, and the portions are massive… the serving in the picture is a half-rack! I'm a big fan of their cornbread; it's moist and holds together and has just a touch of sweetness.
My only real complaint about my most recent meal was that my chicken was purported to be served with fried green tomatoes, which I love…. but what arrived were fried red tomatoes, which is a completely different thing. Instead of the firm, tangy freshness of green tomatoes, they were sweet and mushy. Maybe green tomatoes are hard to source out of season… but if they can't get them, they should change the menu; fried pickles or even fried okra would have been a better substitute.
For dessert, the strawberry shortcake was quite good, but nothing unexpected. The "Southern Style" Twinkie sounded amazing… basically a deep-fried slice of corn bread with strawberries, whipped cream, and some kind of a sweet bourbon sauce. Unfortunately, I didn't think that the balance was right; it wasn't sweet enough to be a dessert… and the deep fried crust actually made it pretty salty. I took a few bites and left the rest. That said, I've never had anything like it… so they get a couple of extra points for originality. Maybe it will suit some visitors' tastes better than mine.
Overall, the experience there is great, and I'd gladly go back any time.
Find "Ole Soul Southern Creole"
If you know Everett at all, Ole Soul is easy to find; just get onto Hewitt Ave and head towards the waterfront; you'll see the sign on the right before the street dead-ends. They don't seem to have a website, but they do have a facebook page.
Address: 1105 Hewitt, Everett, Washington 98204
Phone: (425) 252-4000
They do accept reservations.
Events & Specials
Thursday nights are Jambalaya Night, if you're a fan of real Cajun cuisine. Now and then the restaurant has special wine-pairing events and bourbon whisky dinners; keep an eye on their facebook page for further info. You might also want to watch their page for notices of upcoming blues and jazz performances; singer Kristi Devries seems like a frequent guest.
Rate It & Comment Below!
Have you had a different experience than us? Share it in the comment section below. You can also leave a rating for the restaurant by using the "Reader Rating" system at the bottom of the rating box. You'll have the option to provide an overall rating between 1 and 10 points, but if you'd like to explain your rating in more detail, please do so in the comment section. For the sake of consistency, you might want to read about how we do our ratings first.