Microplane-Style Graters
For a variety of reasons, the microplane-style grater is one of my "go to" tools in the kitchen. Used for zesting citrus fruits and finely grating cheeses and spices, the microplane-style grater is an indispensable tool for which there is no substitute.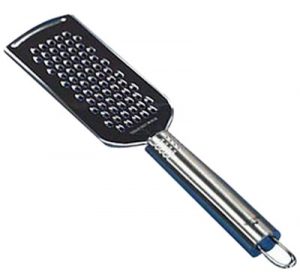 Microplane-style graters, often referred to as the brandname "Microplane" or more generically as fine or ultrafine graters, are used when a recipe calls for finely grated food items. They come in a variety of shapes and sizes, from long and skinny to short and squat. Depending on how you plan to use, you can find microplane-style graters with long handles or tiny hand-held versions. Any of them will do the trick, so find what works for you.
You may be asking yourself why you can't just use a regular grater for the task at hand? The answer is that you have probably worn your grater down to a dull edge with its everyday grating of hard cheeses, veggies or other foods, and it probably isn't fine enough. The benefit of the microplane-style grater is the beautiful results. Made from hard, durable steel, just the slightest pressure yields soft and fluffy piles of lemon zest or parmesan cheese. The end product not only looks pretty, it makes recipes a breeze. For example, sauces benefit from finely grated, quick melting ingredients that incorporate smoothly and easily, and baked goods benefit from the zip of finely grated citrus zest that is more easily distributed throughout a batter or on top of a finished product.
As I noted above, microplane-style graters come in a variety of shapes and sizes and under many brands. If you only have room for one type, I recommend the long rasp grater. This type is very versatile and can be used for a variety of food items. They can also be purchased in every budget, with perfectly great styles around only $5.00. And if you take good care of it, the microplane-style grater should last virtually forever.

Stay tuned next week for a review of the spiral vegetable cutter.
What a tool!
A southwest Ohio movie theater made a big mistake when, instead of showing the recently-released Disney film "Inside Out", it "accidentally" showed the horror movie "Insidious: Chapter 3." Parents quickly scooped up their kids and ran out of the theater. The theater's manager declines to discuss how the mistake occurred. Keep horror out of your kitchen as well by using the right tools for the job.
COVER IMAGE: Detail of a classic Microplane zester. This particular model can be purchased for less than $10 on Amazon.com or other online vendors.