The "Great Wall" shopping mall is like a little Chinatown in the Renton/Kent area, the walls enclosing a wide variety of Asian restaurants, herbalists, gift shops, and professional offices along with a large Asian grocery store. If you're in the mood for noodles, you can find Vietnamese pho, Japanese ramen, or you can stop by the Hue Ky Mi Gia Chinese Noodle House.
It's called a "Chinese Noodle" house, but in fact, the restaurant was established in Vietnam in the 1950s, and has been run by the same family since their move to the USA in 2009, according to their website, so it's no surprise that their first location was in Little Saigon in the Seattle I.D. However, they do specialize in Chinese noodle soups and chow mein, along with Vietnamese rice-noodle dishes.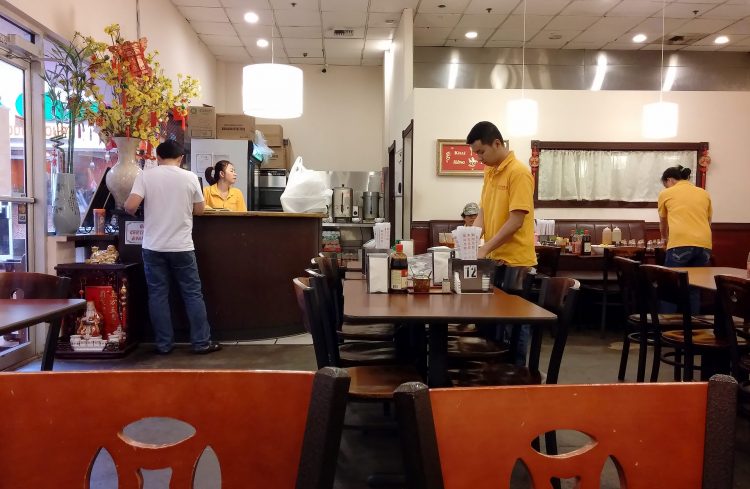 Like many of the Great Wall's establishments, the decor of the Chinese Noodle House is utilitarian. The tables are clean but simple: there are no table clothes or place mats or plastic flowers, which suits me just fine. Instead, you'll find a stainless steel bin for utensils and several jars and bottles of sauces and condiments.
Service can be a bit hit and miss. This place gets very busy around dinner time, and even if you can get a seat, food service can take a while. Go on a weekday afternoon, though, and service is fast and friendly.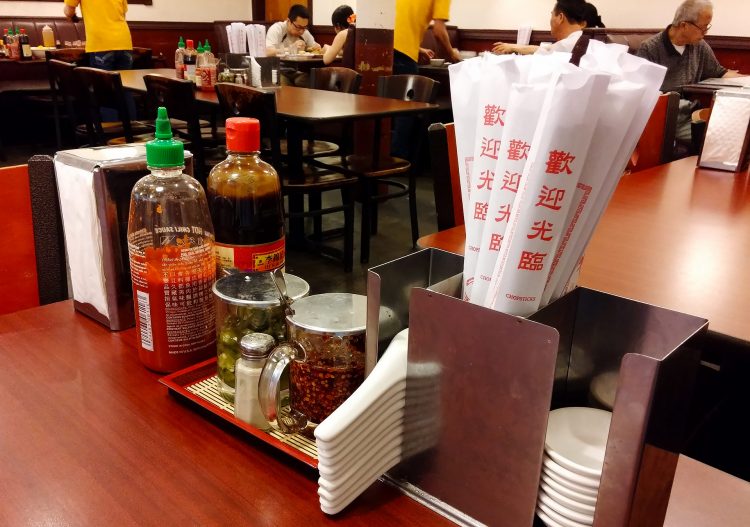 The Food
Let me start with the only appetizer that I've had a chance to try: the fried butter garlic chicken wings are amazing! Very crispy, packed with flavor, and of course, nice and tender. I've had my fair share of garlic wings, and these are among the best I've ever eaten, anywhere.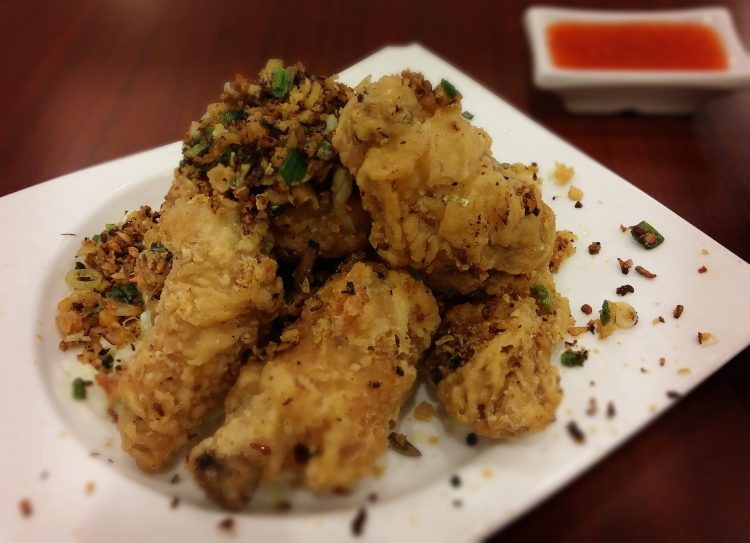 The main draw for me, though, is of course the noodles. They're good, and they're cheap: generally $7.50-$8.50 for a nice sized bowl. I've eaten noodles at HKMG three times now, and each time I've ordered the soup-style noodles rather than the dry.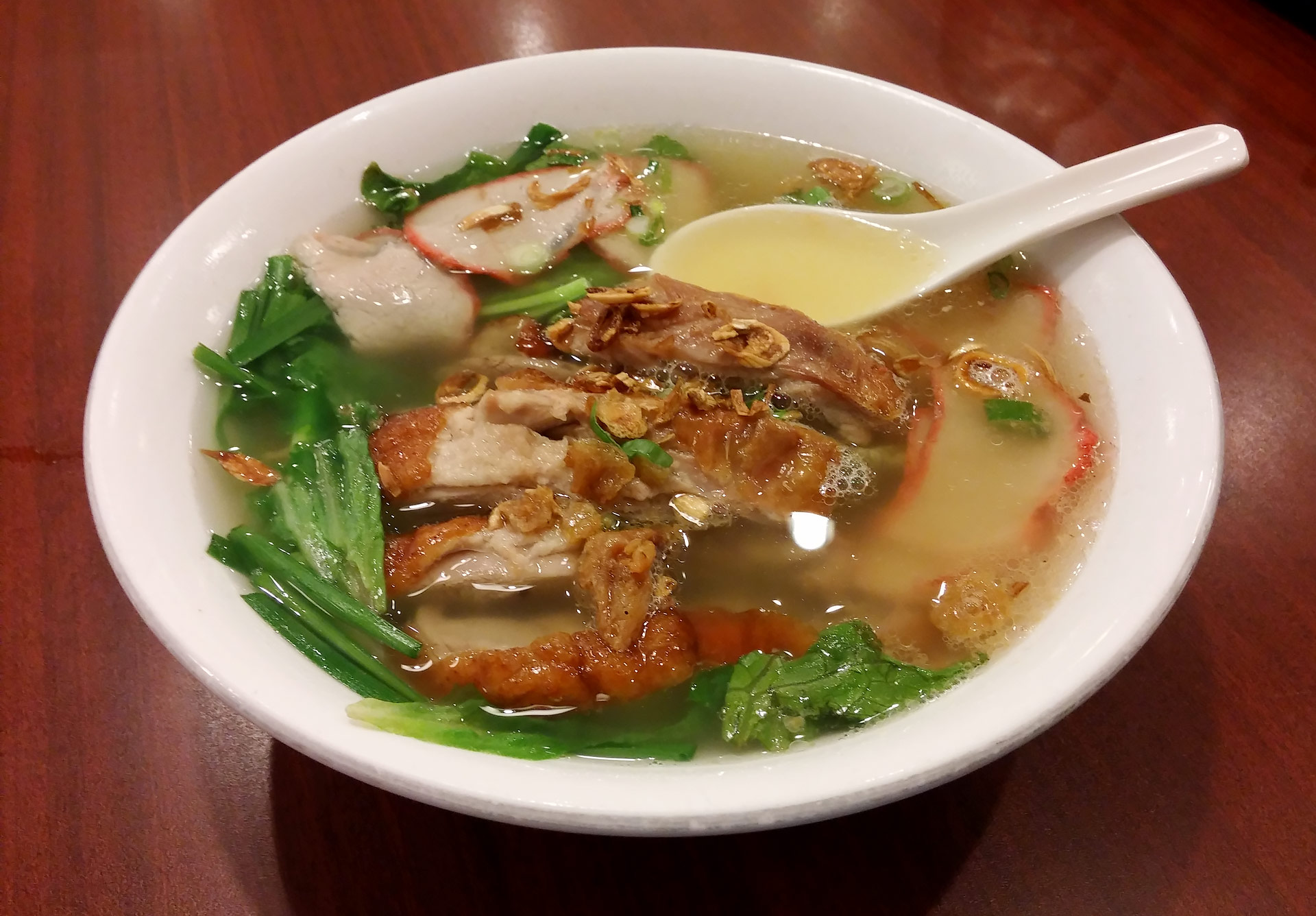 The soup broth itself is pretty salty, but with a sweetness that suggests that vegetables are a significant component of the stock in addition to (what I assume is) the chicken. My waiter's English skills were pretty limited (or perhaps he had a cunning sense of humor), so I can't be sure. In any case, the surface of the broth glistens with beads of fat, which any ramen enthusiast will tell you is critical in getting the flavor of the soup to stick to the noodles as you pull it from the bowl. If you like a little extra zing, sliced peppers or chili oil (or sriracha) can be added to taste at the table.
Unlike your neighborhood Chinese restaurant, though, your noodles can be served with some unusual, authentic Asian toppings. In addition to the more common (but really wonderful) roast duck, braised duck, pork and chicken, you'll find pork intestine, pork liver, chicken & giblets, fish balls, and sui kau (Chinese dumplings), for example.
The roast chicken and duck are served Chinese style, which means that they're on the bone and the bones may be cut and splintered. For that reason, the chicken isn't worth the hassle for me, but the duck most definitely is! It's rich and tender, with the crispy skin covering a layer of fat… it's really like duck bacon!
Unlike the hand-pulled noodles found at the King Noodle House in Everett, HKMG soups are served with very firm noodles that will take a little time to fully cook after they're served. This gives you some time to work the duck off of its bones and enjoy your first cup of tea; by the time you get down to the noodles, they'll be ready for you. The noodles themselves are not particularly remarkable, though they're good quality noodles: more firm and dense than ramen but similar in appearance.
In addition to egg noodles, HKMG serves Vietnamese style rice noodles and chow mein, as well as stir fries and fried rice dishes, though I may never make it to the rest of the menu.
Location
Though the address is in Kent, the Great Wall is about three blocks away from the (Seattle!) IKEA in Renton. If you want to GPS it, the address is:
18230 E Valley Highway, Ste 152
Kent, WA 98032
The original Hue Ky Mi Gia Chinese Noodle House has been on Jackson Street in Seattle's "Little Saigon" since 2009. It's at:
1207 S Jackson Street, Ste 101
(between S 12th Ave & S Boren Ave)
Seattle, WA 98144