If you can figure out how to get into their parking lot, Szechuan First offers some of the best Sichuan1 cuisine outside of the International District, and at very reasonable prices.  Their decor is  strip-mall contemporary. Their service is reasonably good, though it can be pretty slow during the dinner rush. The food, though, is excellent, and their portions are ample.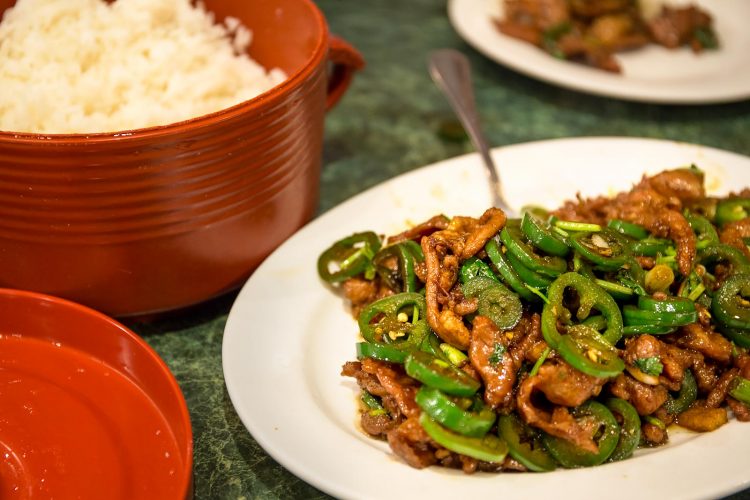 The Food
Like most Americans, I grew up with American Chinese food: mostly the type of stuff that you'll find at Panda Express. Although most of it does have its roots in China, many Chinese menus have been homogenized, simplified, and adapted for local tastes. Don't get me wrong. I love that stuff, too.  But Szechuan First is something different.
Part of the reason for that is their clientele. On my first visit, a Friday evening crowd filled every table in the place, and mine was the only white face in the joint. I consider that a plus. Another part of the reason is that it specializes in Sichuan cuisine2 rather than the more common mix of Cantonese, Hunan, Hong Kong, and other regional Chinese styles.
Their food is authentic and excellent. Among their specialties are whole cooked fishes, such as fried sole (mild and crispy, pictured at the top of the page) and whole braised rock cod, a nice meaty fish with a rich brown sauce. I love their Tea Smoked Duck, which has a wonderfully crispy skin and a texture more like ham than poultry, and their cumin lamb is very nice, as is their Twice Fried Fish.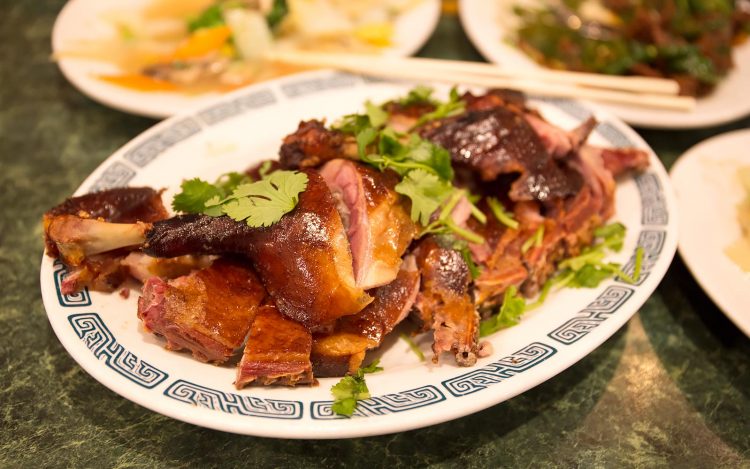 The Service
Service can range from friendly and moderately good to inattentive, depending on who is working. It's bare bones service, really: they'll take your order, bring your food, and bring your check, but we don't usually get many check-ins in between, which is fine with me. Water or tea generally is kept full. Food preparation is fast, in general. A fifteen minute wait for food is about the average.
The Location
Before I say any more about the food, though, let me explain the location, since it's a bit hidden. Szechuan first is in a small shopping center off the East Valley Highway in Renton, about a block from the Great Wall, and two blocks from the back-side of IKEA. However, unlike most strip-malls, the one that is home to Szechuan First does not front to the main road. In fact, if you can see the front of Szechuan first across a parking lot from the street, you can't get to it. To enter, turn into the Harbor Freight parking lot and work your way out the back and to the left. Alternately, if you're driving East on 180th St (aka SW43rd St, aka S Carr Rd), directly past the 76 Station on the corner, turn into the Great Floors driveway and follow it for 100 yards.
Prices
Considering the quality of the food and the portion sizes, Szechuan First's prices are excellent. At lunchtime, almost everything is under $7, and at dinner, they're not a lot more expensive. I've already mentioned that their massive containers of steamed rice cost $2, which is fair for rice, but much less than many places charge these days. But their Tea Smoked Duck costs about $9 for a half duck!
The Final Score:
We recommend it! This is how I like to see a final rating come out: a high score for food and value, and no major problems with the rest of it. Service and atmosphere are just fine, just nothing special. There's a good amount of variety of the menu, but since it's traditional food, the score is for variety rather than originality.
We've opted to make use of the modern Pinyin transliterations whenever practical, despite many restaurants using the older Wade-Giles spellings in their names and menus. Thus, the name of the region and cuisine is Sichuan rather than Szechuan, just as the city is Beijing rather than Peking. [↩]
Sichuan cuisine is characterized by the use of Sichuan peppercorns, rice rather than noodles [↩]