Just inside the elegant but dimly lit entryway to John Howie Steak in Bellevue, the warm glow of a display case draws the visitor's eye to its contents: marbled red beef. And rightly so–  John Howie Steak's menu is practically a museum of fine beef, showcasing the best cuts of custom-aged USDA Prime beef (28, 35, or 42-day aged) and fresh Japanese, Australian, and American Wagyu. Luckily, this is an interactive museum.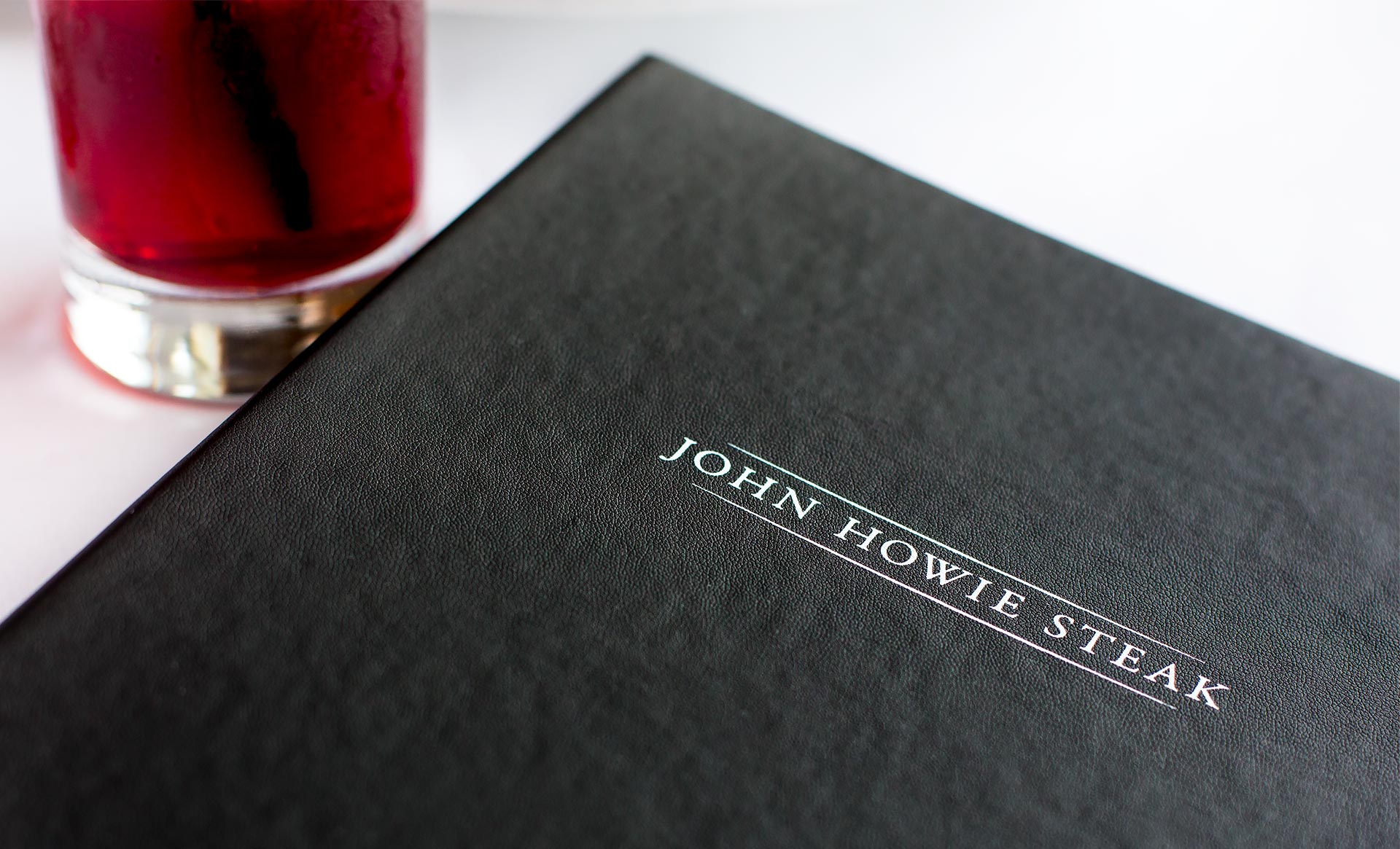 Seattle has several great steakhouses, of course. Ruth's Chris. The Metropolitan Grill. Daniel's Broiler. John Howie's menu, though, is really in a class of it's own; I haven't visited another steakhouse in the state that offers such excellence and variety to the true vodinophile1.
Appetizers & Sides
What is even more impressive, perhaps, is the fact that everything else on the menu is so remarkably good, too. If you don't have heart problems, you should try the tempura fried Kurobuta bacon from the appetizer menu! Several long bacon slices deep-fried in a light tempura batter are usually served vertically in a cup, but they don't last long on our table. The spicy Habanero Butter Shrimp are also a favorite; they manage to be mildly spicy and creamy at the same time.
The side dishes are equally good, if not better. I'm not a big fan of Brussels sprouts as a general rule, but John Howie's fried Brussels sprouts are good enough to convert any sprout-skeptic. Sliced in half and charred around the edges, the sprouts are infused with a lemony vinaigrette and topped with real Parmigiana Reggiano, fresh from the micro-plane. The sprouts' anticipated bitterness is (almost) completely absent, leaving you with a mouthful of salty, savory green goodness with a bit of citrusy brightness. The twice-baked potatoes (with bacon), Maine lobster mashed potatoes, and Beecher's Flagship Reserve Cheddar mac & cheese are all not to be missed.
Steaks
[GattMore] On my most recent visit, I ordered an 8 oz. American Wagyu zabuton steak. A zabuton is a Japanese sitting cushion, but as I was unfamiliar with the cut of beef, I asked our server for some information. It turns out that the steak is a square cut (thus, the name) from the short-rib between a ribeye and a strip steak. The cut is only popular with Wagyu beef, as the meat is well marbled with fat. This, he said, produces a steak with the buttery, smooth flavor of a ribeye with the fuller flavor and even texture of a strip steak.
And that is exactly what I received. I ordered my steak medium-rare, and it arrived red in the middle, which was perfect2. I added a pinch of black Hawaiian salt from the tower and enjoyed the mildness of the flavor; it was tender enough that chewing seemed like more of a joy than a necessity, though in truth, the cut did maintain a definite beef-grained texture.
[Smack] Eye of the ribeye.
Desserts
There's something especially fun about having dessert made table-side, and even more so when it involves open flames leaping from a pan of melted sugar and butter. And luckily, John Howie's bananas foster tastes as good as it looks, but if you're not a fan of bananas, you can also get table-side cherries jubilee. I also felt obligated to try the Boston Cream Pie, which is always one of my favorites, and John Howie's was as good as any I've ever had.
Service
Even ignoring the expert table-side dessert preparation, the service at John Howie Steak is among the best I've experienced, and we're no strangers to high-end establishments. Our waiters have always been knowledgeable, friendly and attentive. Perhaps even more impressive are their the black-clad helpers who appear and vanish from the table side almost unnoticed, like a team of hospitality ninjas… clearing plates, filling drinks, replacing napkins. One of the children at our table was provided with a small packet of crayons to decorate her place-mat; her discarded wrapper didn't rest for five seconds before I noticed a ninja hand deftly snatch it from the table and disappear in the background. As with any restaurant, some hosts are better than others, but even the worst ones are great.
Price
There's no getting around it… this level of dining comes at a cost. Choosing among the most expensive items on the menu, a single appetizer, salad, steak (6 oz. filet), vegetable, potato, dessert, and cup of coffee could cost $288 dollars. Granted, this is based on the most expensive steak, a Japanese Wagyu Filet Mignon ($160) and a cup of kopi luwak coffee ($45), but it also leaves out wine and cocktails. Most of their steaks fall within the $60-100 price range, with no sides. If dealing with prices in that range are going to keep you from completely enjoying your meal, you might try their happy-hour menu at the bar instead.
Conclusion
Truly excellent, but not a bargain.
Disagree? Let us know in the comments section below!
I admit it: I just made this word up. Vodinó is Greek for beef. [↩]
If you're used to home-cooked steaks, or steaks ordered from most other restaurants, this would probably be considered "rare". John Howie's menu describes each level, rare through very well, so make sure that you know what you're ordering before it comes to the table! [↩]