Arashi Ramen in Tukwila is hidden away in a strip mall on Southcenter Parkway, near a Men's Warehouse. The location is not inspiring, but don't let that deter you. Inside, the shop is minimalist, but stylish and Japanese. The walls are textured like raked zen stone gardens, and a chalkboard names the Japanese chef and explains that the tonkotsu broth has taken 14 hours to prepare. All good signs.
The Ramen
Arashi is basically a tonkotsu ramen joint. Tonkotsu is a slow cooked pork-bone broth, and it serves as the base for all of the ramen that I've tried at Arashi, though I haven't tried everything yet. On my first visit, I decided to start with the basics and went for the shio tonkotsu ramen, which has a salt-flavored (shio) tonkotsu base.  As mentioned before, the tonkotsu simmers for 11 – 16 hours (I've seen a range of numbers on their chalkboard), and the result is very nice: rich and savory, a bit fatty, not too salty, and it's cloudy but not thick. There's a very slight fishy/gamey smell that I'm not crazy about, presumably from kombu or fish in the dashi, but it doesn't really detract from the overall bowl. The shoyu (soy sauce) tonkotsu ramen is very similar.

The black garlic ramen (image at top of page) also has a shio tonkotsu base, but it has a much sharper flavor. From the name, I expected garlic to be the predominant flavor, and while it is certainly present, the overwhelming flavor is of onion instead (it contains shaved green onion and fried onion), which is great if you like onions.  I expected this to be wonderful, but it ended up being my least favorite of the bunch, though it was still good. I'll have to try this again and see if I just got a weird bowl.
Arashi's miso ramen was a pleasant surprise. It wasn't served as hot as the others (I could start sipping the broth immediately without incurring any serious burns), but the flavor was perfect: salty, opaque and creamy-smooth, just fatty enough to stick to the noodles, and not at all fishy. This is supposed to be served with thicker noodles (according to the menu), but my noodles didn't seem very different from the thin noodles served with the shio and shoyu bowls… although they did seem more yellow (the others are pretty pale). "Wide" seems to be a term of art. I'd say they're a little thicker, maybe, but they're not wide noodles like fettuccine.
Each bowl was served with a seasoned half-egg and chashu (sliced pork).
The chashu was the weakest part of the bowl in each case. There's no denying that it is tender, but it is also thin, and the end result is that it ends up feeling soggy. The pieces are nice and large for pork belly, but it's soggy enough that when you try to pick it up with your chop sticks and carry it to your mouth, it just falls apart like wet toilet paper, and if there's any flavor to it, it is completely overwhelmed by the broth that saturates it. This is all a bit of a disappointment after eating the excellent (Chinese) roast pork slices at King Noodle for so long. On the other hand, the eggs are indubitably the best that I've ever tasted. I don't even like soft-boiled eggs, but I look forward to eating the egg in my ramen bowls at Arashi.
I don't have much to say about the noodles themselves. They're good quality fresh ramen noodles, a huge step up from dried ramen, but not unlike the Sun Noodles that you'd find at many shops. If you prefer your noodles to be prepared firm or extra-firm, you can order them "katamen," or "barikata" and as you attack your broth when the bowl arrives at the table, the noodles will continue to cook. My "thin" noodles were the straight type and nearly white, while the "wide" noodles in the miso broth were a bit more crinkly and yellow.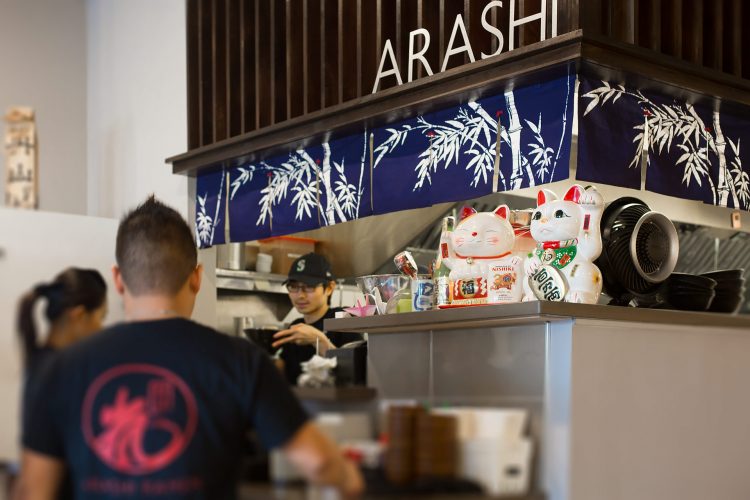 Summary
Arashi Ramen is a very good ramen shop. I wish their pork wasn't so soggy, but I still stop in there for lunch every time that I get a chance. The service is friendly enough and fast, so its easy to get in and out quickly.
Ramen is supposed to be cheap and fast, and at about $9/bowl, Arashi is just about right- not a great deal, but certainly not over-priced.
Location
Arashi Ramen is just a short drive from the Southcenter Mall in Tukwilla at:
17045 Southcenter Pkwy
Tukwila, Washington
Phone: (253) 220-8722
Website: http://www.arashiramen.com/
11:30 am –   3:00 pm
5:00 pm – 10:00 pm
Tuesday – Sunday, closed on Monday
Questions? Comments?
Please share your experiences in the comment section below!